An outbreak of acute diarrhea in Ho chi Minh City's Binh Chanh District has killed one ten month old infant.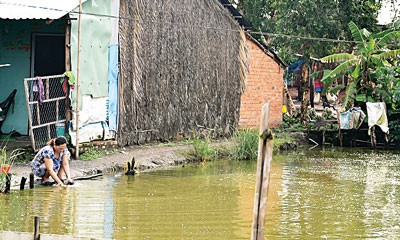 Residents in Le Minh Xuan of Binh Chanh District living in the polluted environment-(SGGP)
Seven babies infected with the disease in Le Minh Xuan Commune in Binh Chanh District including one death of a ten month old infant. The Department of Health in HCMC said the outbreak of acute diarrhea has appeared due to poor environmental sanitation and hygiene condition.

Medical experts fretted as residents in the commune live in stagnant ponds. For years, residents go for open defecation and they breed fish with their shit in a pond. They also use contaminated pond water for washing and bathing.
Truong Van Hanh, deputy chairman of People's Committee in BInh Chanh District said that local residents live temporarily here as the commune is zoned for house planning area however, it is suspended for years.

The district authority has encouraged people to remove open defecations to eliminate disease over ponds but they don't follow the warning; accordingly it is heavily contaminated and water-related diseases breaks out.

Moreover, water supplier Le Minh Xuan is far from the area; consequently, the price of water increases many times. Many low income resort to using contaminated water for washing and bathing; hence, outbreaks of disease are unavoidable and children are first victims.

In a working session with the commune authority, Nguyen Huu Hung, deputy chief of the city's Department of Health has ordered to issue a ban of raising animal in the infected regions, besides local authority should support residents build standard toilets and supply free fresh water soon to each household.