Ho Chi Minh City has made huge efforts to call on the private sector to help construct and upgrade its traffic system as the city itself suffers from a lack of capital in its budget. However, it continues to face difficulties and setbacks brought about by outdated by-laws on road toll stations and compensation policies.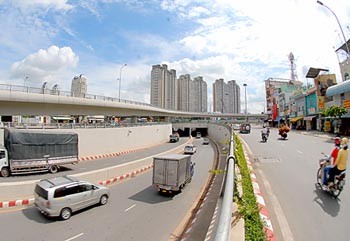 HCMC in urgent need of more investments for traffic infrastructure (Photo: SGGP)
As per the traffic development plan set until 2025, Ho Chi Minh City requires an average US$3 billion annually for infrastructure and repairs mainly in traffic projects.
Despite all efforts, the city has been unable to garner even one third of the required fund amount and remains dependant on domestic and foreign investors.
Bui Xuan Cuong, deputy director of the Department of Transport says that HCMC is leading the country in calling on investors, but out dated by-laws and red tape is marring further movement.
To clarify the point, the minimum distance between road toll stations is 70 kilometers. This was not problematic when roads built under BOT (Build – Operate – Transfer) were but a few, some years ago.
Today, building and upgrading a road is a necessity to easing traffic congestion, which requires more BOT projects. But with many sections not being as far as 70 kilometers, this is now an obstacle.
Cuong says that by-laws protect residents from paying too much road toll. This sounds rational to some extent but then if the city does not collect toll how will new roads and bridges be built.
Several departments have proposed adjusting the by-laws to be more realistic with current times, he said.
Binh Trieu 2 project has been ongoing for nearly ten years and only one bridge is complete, while roads leading to the bridge have yet to be built. One of the reasons for this stalemate has been huge compensation costs.
Vu Kien Thiet, director of the Urban Traffic Management said that the total expenditure for construction of the bridge is only VND1.1 trillion (US$52 million), but compensation costs reached VND6 trillion.
As per rules, investors have to only pay for construction while compensation is the responsibility of the city.
Over the last several years, HCMC has solved this issue by delivering required land to investors. Based on the value of the land, investors give the city money as compensation. However, now the city does not have much land left for investors.