Ho Chi Minh City has implemented many solutions for the last decades to deal with long prevalent traffic jam without results as expected, partly because of outdated regulations and lack of self-control to its internal businesses which have failed to suit the city's development traits and slowed efforts to tackle the issue, said experts.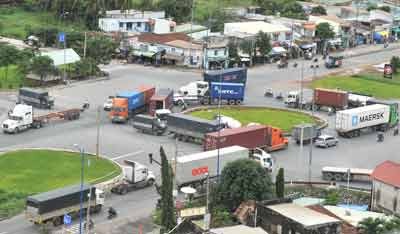 My Thuy intersection upgrading project is waiting for permission from ministries (Photo: SGGP)
HCMC authorities have been highly determined to restore roadside and pavement order with regularly and constantly conducted measures. They have even asked district leaders to make a commitment to take actions against this. However, it has not been improved without any leader being handled, who are responsible for remains unclear.
According to an unnamed planning expert, the prolonged issue is an evidence for the backward of current regulations and urban management model compared to de facto condition in HCMC.
Penalty level for those transgressing pavements and roadsides is only VND2-3 million, a trifle against average income of households with street-front houses. They might earn tens of millions of dong a month from renting out their premises in center districts, said an expert from the HCMC Institute for Development Studies.
If HCMC had self-control in urban management, it would be able to issue more suitable regulations, for instance, the penalty would increase to VND100 million (US$4,445), he added.
Thanh Buoi bus company has opened a picking up and dropping off point right near the headquarters of the HCMC traffic inspectorate for a long time, with about ten passenger buses stopping there a single day. However it is unknown why the inspectorate has not ended this violation and why their irresponsibility has not been handled.
Local authorities have many times instructed districts to strictly tackle illegal bus stations inner the city for decades, but they have still existed and operated so far.
Dated urban management model is the main cause for that situation because it is unable to point out responsibilities of relevant officials, said experts.
Lack of self-control
HCMC has been seeking permission from related ministries to build My Thuy intersection to complete belt road no.2 because the project is expected to be implemented under a new form, in which investors will advance money to build the intersection and receive deferred payment from the state budget.
In fact, the city has built Rach Chiec Bridge in the road linking Hanoi Highway to Phu My Bridge under the above form making My Thuy not precedent. Moreover, it is not a large scale project but HCMC still has to ask for the central permission.
Before creating a movement to invest in buses using compressed natural gas, local authorities had also been allowed by central agencies.
This process has negatively affected the city's development as opportunities usually pass very quickly in such a large economic hub, where it has to ask for the permission from ministries for every internal business and project.
In addition, the ratio of budget revenue left for the city is little causing a big difficulty in dealing with traffic jam and developing public transport.
Mr. Huynh The Du, director of Fulbright program in HCMC Economics University, said that HCMC resources have been squeezed instead of being used for promoting its potentials and advantages for better international competitiveness.
HCMC has been able to keep only 25 percent of its revenues despite contributing nearly 20 percent GDP and 30 percent national budget for the last two decades, he added.
The city's economic growth has recovered after a crisis for recent years and soon faced big challenges including traffic jam, which has returned regularly and widely with the increasing number of immigrants and volume of goods to the city.
Therefore, HCMC does need a suitable mechanism and strong enough resources to solve problems such as traffic jam and develop sustainably.

Related article:
Traffic violation: top reason for unrelenting traffic jam in HCMC