Commendations went out to some 328 families in Ho Chi Minh City on Thursday for their exemplary lifestyle at a conference celebrating Viet Nam's Family Day (June 28).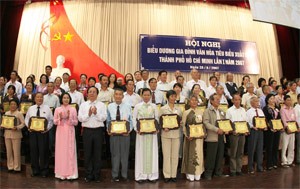 Outstanding families get commendation at the conference on the Family Day (June 28)

All participants agreed on the role and importance of family in everybody's lives, and said that strong family ties help to build a civilized society.

They agreed that a family should be at the heart of every home and that families form "healthy cells" within society.

For the occasion, the HCMC Department of Culture and Information launched a three-year movement to educate and encourage city-based households on the importance of family and lifestyle.

The main purpose of the movement is to honor happy Vietnamese families with only one or two children, in which each member leads a healthy lifestyle and contributes to the development of the country.