The Ho Chi Minh City Communist Youth Union presented Nguyen Van Troi* Awards to 17 outstanding employees in an awards ceremony held in the city on October 11.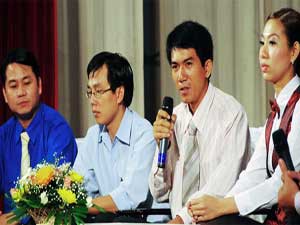 Some of the Nguyen Van Troi prize-winners at the awards ceremony in HCM City on October 11 (Photo: SGGP)
The young workers were honored for initiatives which made their companies more economically efficient, saving them hundreds of millions of dong.
Engineer Ho Van Toan of Lilama 18 JS Company, for instance, was honored for his idea of building the largest oil tank – the first of its kind in Vietnam – at the Dung Quat Oil Refinery in Quang Ngai province.
Road and bridge engineer Luong Ho Ngoc Thanh of the Traffic Works Joint Stock Company 8, received an award for his idea for a prefabricated concrete component used for structures built on a weak foundation.
Other prize winners included Nguyen Ngoc Trang, a bartender from the Ben Thanh Hotel; engineers Nguyen Thanh Dat, of the Liksin Corporation; and Nguyen Tan Hung, of the Ho Chi Minh City Electricity Company.
It was the second time this year the Nguyen Van Troi Awards were presented to outstanding young workers.
The award ceremony was attended by Deputy Secretary of the HCMC Party Commitee Nguyen Van Dua, Secretary of HCMC Communist Youth Union Phan Van Mai, and more than 500 members of the city's Communist Youth Union.
Nguyen Van Troi Award winners

1. Luong Ho Ngọc Thanh – Bridge and road engineer, Traffic Works JS Company 8 under the Saigon Transportation and Mechanical Corp.  
2. Nguyen Thanh Dat – Engineer, An Lac Label Printing JS Co. of Liskin Corp.
3. Nguyen Ta Phan Khoi – Staff member of Vissan Co.
4. Nguyen Thi Ngoc Trang - Staff member of Ben Thanh Hotel
5. Nguyen Tan Hung - Engineer of High-Tension Electricity Enterprise
6. Huynh Minh Thong – head of a production team at Liksin Packaging Enterprise
7. Nguyen Ang Quoc Dung – telecom expert at Ho Chi Minh City Telecommunications
8. Le Quoc Dung – staff member of Liksin Corp.
9. Nguyen Ngoc Minh Thy – Standing member of the Communist Youth Union at Liksin Corp.
10. Dang Van Luong – Deputy Director of An Phu Enterprise, under the Saigon Agricultural Corp.
11. Vu Anh Minh – Staff member of Vissan Co.
12. Nguyen Van Du - Staff member of Minako Enterprise, under Sai Gon 3 Garment JS Co.
13. Doan Van Ha – head of the quality control department of Hung Vuong Works Construction Co., Ltd.
14. Truong Van Vu – IT expert at HCM City Post Office
15. Ho Van Toan – Engineer and deputy secretary of the Communist Youth Union of Lilama 18 JS Company
16. Truong Su Huy Dung – Worker at District 5 Oriental Medicine JS Co.
17. Nguyen Hong Loc – Staff member of the Management Board of the Tan Hiep Water Plant Project.
* Nguyen Van Troi, born February 1, 1940, was a Vietnamese electrical worker and an urban guerrilla of the National Liberation Front in the Vietnam War. He was seized by the South Vietnamese police after his failed attempt to assassinate US Secretary of Defense Robert McNamara who was visiting South Vietnam in May 1963. He was executed on October 15, 1964.