A total of 1,010 people donated blood in Ho Chi Minh City on April 11 during an organized blood-donation event. More than 2,000 Youth Union members, student volunteers and city residents turned out to help with the project.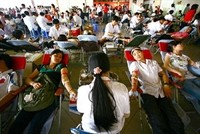 This undated file photo shoes people donate blood in Ho Chi Minh City 
Nguyen Van Dua, deputy secretary of the HCMC Party Committee and representatives of ministries and departments also donated blood.
The donation day also saw around 1,000 people register to donate blood in the future if levels become scarce.
In 2009, the country received nearly 633,000 units of blood, exceeding set targets. Of the total units of blood available last year, the volume collected from volunteers was over 79 percent while blood donations between family members accounted for 6.51 percent.
However, the country's blood donation campaign is still encountering some difficulties including the need for a better legal framework for blood donation; and poor coordination between the steering committee for blood donation and blood collection facilities.
In addition, better public awareness programs are needed nationwide on the importance of donating blood.