More than 200 premium Australian wine labels will be featured and complimented by Australian food products at a Ho Chi Minh City gastronomy show held this week to further promote trade in the industry, the organizers said Monday.
The annual Australian Wine and Food Show will be hosted at the Caravelle on June 3-4, Australian Consul General Graeme Swift told a press briefing at the five-star hotel Monday.

The show will bring together Ho Chi Minh City's leading Australian wine and food importers, as well as Australian exporters interested in the Vietnamese market, he said. Therefore, it will provide an opportunity for both commercial buyers and members of the public to sample a broad range of high quality Australian produce, he added.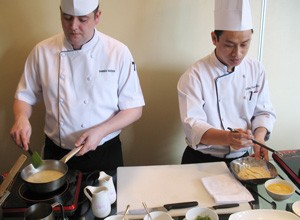 Caravelle chef Darren Watson (L) and his assistant Tran Thai Bao make a dish of spanner crab risotto, crispy squid and petit pois at Monday's press briefing about the 2011 Australian Wine and Food Show. Watson will prepare a six-course meal for the event. (Photo: Minh Tuong)
Several winemakers will travel from Australia to participate in the event, said event coordinator Jim Cawood.
In the lead up to the event, an Australian wine challenge will be held at the hotel on June 2 with the aim of unveiling the best Australian wines currently available in Vietnam.
Regarding the Vietnam market, Cawood, an Australian wine and food importer, said French wine currently holds the largest market share, Australian wine second, followed by Chile wine.
In terms of trade, he said Australian wine imports have been more difficult over the past four months because Australian dollar gets stronger while Vietnam dong becomes weaker.
Caravelle chef Darren Watson said he would make a six-course meal for a gala dinner on June 3. The meal will showcase "the best of Australian produce" matched with the winning wines from the competition the day before.
The Food and Wine Show public day will be held on June 4 afternoon. Tickets for the public day are VND300,000 per person, available from Vino, Bacchus Corner and The Warehouse in HCM City.