Two international industrial exhibitions will be co-located at Ho Chi Minh City's Saigon Exhibition and Convention Center on Mar 23-25 to showcase a wide range of products and technology from more than 300 exhibitors, the organizers said.
A total of 243 exhibitors from 28 countries and territories will attend the 6th International Processing, Filling and Packaging Exhibition and Conference for Vietnam, shortly called Propak Vietnam 2011, said David Aitken, director of Bangkok Exhibition Services Ltd. from Thailand.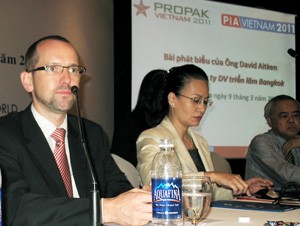 David Aitken (L), director of Bangkok Exhibition Services Ltd., speaks at a press conference in Ho Chi Minh City on Mar 9 about Propak Vietnam 2011 and PIA Vietnam 2011 (Photo: Tuong Thuy)
The other international exhibition is PIA Vietnam 2011, an event in processing engineering, instrumentation, laboratory and scientific equipment.
PIA Vietnam 2011 comprises Pharmatech Vietnam (international pharmaceutical and cosmetic processing, filling, packaging and ingredients exhibition) Instrument Vietnam (for instrumentation, measurement and testing) and Analysis & Lab Vietnam Exhibition.
The co-organizers are Bangkok Exhibition Services, Allworld Exhibition, and VCCI Exhibition Services, a unit of the Vietnam Chamber of Commerce and Industry VCCI).
The organizers held a press conference on the events in Ho Chi Minh City on Mar 9.
Mr. Aitken said the Propak Vietnam exhibitors come from Australia, Belgium, China, Denmark, France, Germany, Hong Kong, India, Indonesia, Ireland, Italy, Japan, Korea, Malaysia, the Netherlands, Russia, Singapore, Spain, Sweden, Switzerland, Thailand, the UK, the US, Vietnam and elsewhere.
Meanwhile, the PIA show's targeted visitors are representatives from agro-industries; building and construction; chemicals; cosmetics, health and beauty; food and drink; medical, pharmaceutical and biotech; rubber and plastics; textiles; production and distribution, laboratories, among others, according to the organizers.
The Saigon Exhibition and Convention Center, the venue for Propak and PIA, is located in Phu My Hung Township in District 7.
Vietnam's pharmaceutical market alone will continue to see high annual growth of 25 percent, reaching some US$2 billion in 2012, according to the Vietnam Pharmaceutical Management Department. This will be the compelling factor attracting foreign investors to pour capital into this market.