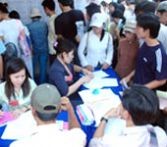 Job fairs are a good chance for young people to get employment
Up to now, more than 40 companies with 1,200 vacancies have registered to take part in a job fair held by the Employment Center of Young People under Ho Chi Minh City Youth Union.
The event gives job-seekers a chance to meet and introduce themselves to the companies; and employers can interview directly to select the right employees.
It is expected that more than 50 companies and 3,000 job-hunters will attend the fair.