'Lights off' event aiming to raise public awareness about environmental protection and energy saving took place at the Ho Chi Minh City Youth Culture House yesterday evening.
The meaningful event attracted the participation of more than 5,000 young people and citizens.
It was co-held by Sai Gon Giai Phong Newspaper, Department of Natural Resources and Environment, the HCMC Trade and Industry Department, HMC Youth Union and Saigon Commercial Cooperative Union.
At 8:30 pm, 'Turning off unnecessary electric devices during an hour" event kicked off simultaneously not only in 63 nationwide provinces and cities but also in over 7,000 worldwide cities, delivering the message of "The future begins now".
A representative of the organization board of the 2017 Earth Hour Campaign, Deputy Editor in Chief of Sai Gon Giai Phong Newspaper  Mr.Nguyen Thanh Loi shared that 2017 is the eleventh year and the ninth year that earth hour campaign launched in the world and Vietnam, respectively.
Famous young singers such as Dinh Huong, Thai Trinh, Bui Cong Nam, MTV boy band, Isacc and Ai Phuong performed in the program.
At that time, the event also took place simultaneously in houses, hotels, offices, coffee shops, restaurants and shopping malls of district 1, 3, 10 ...
Local people turned off unnecessary electric devices from 8:00- 9:30 pm to respond the event.
Earlier, crowded young people flocked to the Youth Culture House to join the activities of standing S-line as Vietnam map shape, flash mob dance 60+ and min games to classify garbage.
Earth Hour is a global event organized by World Wide Fund for Nature. The campaign was first launched in 2007 in Australia and Vietnam officially joined the event in 2009.
There were some photos posed at the HCMC Youth Culture House: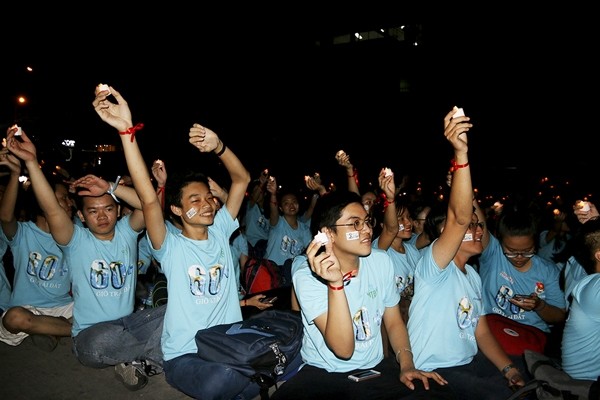 young people take part in the 2017 Earth Hour Campaign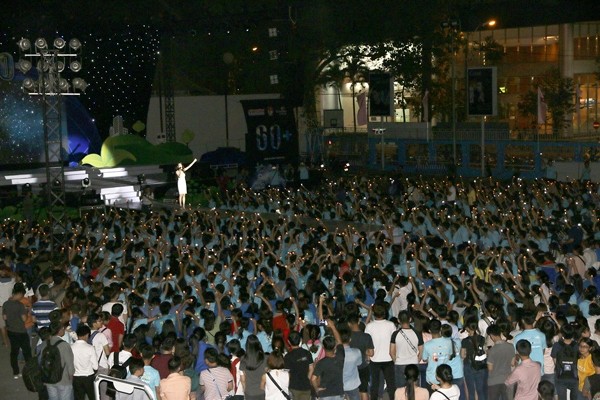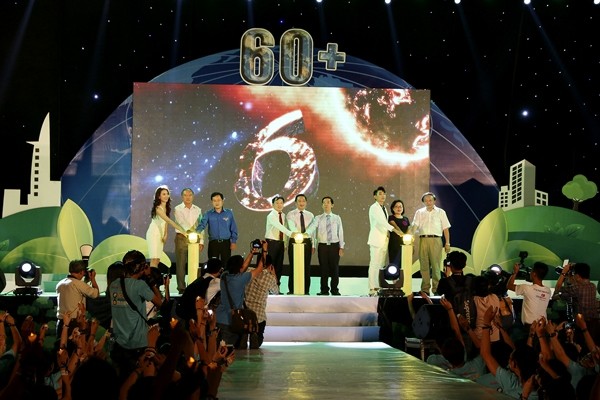 Deputy editor in chief of Sai Gon Giai Phong launches the campaign