Over 5,000 people participated in the walk in Dam Sen Culture Park on August 6 to raise fund for Agent Orange victims and disabled poor people.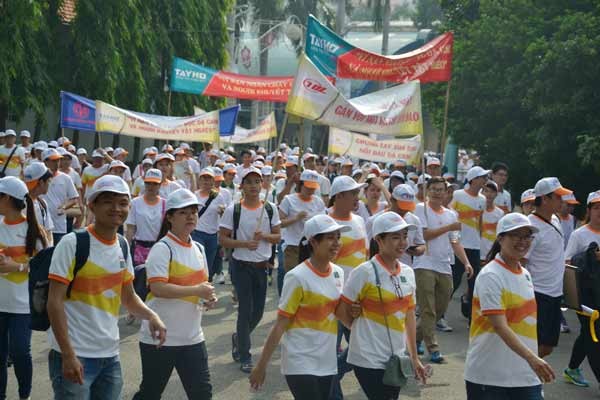 Over 5,000 people partak in the charity walk (Photo: SGGP)
The activity was organized by Ho Chi Minh Red Cross Society and relevant agencies, with the participation of staffs in companies, volunteers, pupils, students, AO Dioxin victims and disabled people.
Speaking at the launching ceremony, Chairman of the city's Red Cross Society Mr. Le Quang Ninh stressed: "Around 4, 8 million Vietnamese people are currently affected by Agent Orange Dioxin; many of them are the second and the third generation of a family. Many families lead a difficult life and pain due to the chemical".

Through this activity, he desired that many social organizations, enterprises, sponsors and individuals will continue donating and helping the dioxin victims and poor disabled people to overcome difficulties in their life.
Last year, the program received VND 2, 96 billion (US$ 132,696) to take care of these special people. It regularly presented cash, gifts, charity rice portion to 865 people, give unexpected assistance to 3,142 people including repairing their houses, medical charges, or investment for raising cattle as well as provide 295 wheelchairs.

From 2011 to 2016, the Red Cross Society's fund to help AO victims has called for social contribution to look after AO victims including regular subsidizes, medical check-up, building charity houses , giving bank account scholarships and vocational training fee for AO children.

Additionally, the Red Cross Society organized many media activities and musical performance and walks to call for financial contribution from all sector .
Accordingly it has helped 18,480 AO victims with total of VND13.6 billion (US$ 609,688).
The walk is annual activity of the Red Cross Society in response to the action month for AO victims and disabled poor people.