A hydrofoil carrying 90 passengers caught fire in the Saigon River on its route from Ho Chi Minh City to Vung Tau on January 20.  There are no reported casualties.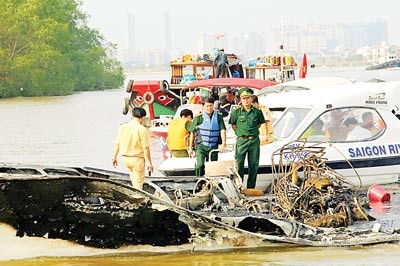 The hydrofoil sinks into the river after the incident (Photo: SGGP)
Driver Le Van Vinh drove the vessel toward a riverbank near Tan Thuan Industrial Zone in District 7 immediately after detecting fire in the tail of the boat.
Crew members called HCMC Port Authorities for aid. 
The boat nearly capsized after passengers ran around the cabin in panic.
There was an explosion in the engine 15 minutes after departure, said passenger Nguyen Van Tuan.  Passengers panicked after seeing smoke and many jumped into the river to escape.
Luckily rescue boats and fishermen arrived to save the passengers.
About 30 rescue boats of the HCMC Port Authorities, Maritime Police and Vina Express Company deployed to the scene and all passengers were rescued.  Since 2:45 p.m. half of the boat is sunken while oil spills into the river.
The cause of the explosion is still being investigated.