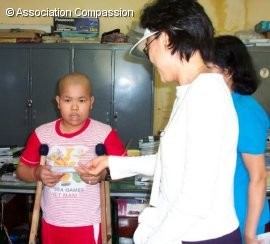 A young patient at the Ho Chi Minh Tumor Center
Money collected from the 9th marathon named Terry Fox Run in 2005 held by the Canadian Consulate in Ho Chi Minh City will be donated to Ho Chi Minh City Tumor Center to buy equipment for cancer diagnosis and treatment.

The Canadian General Consular Sanjeev Chowdhury gave a cheque-card of VND420 million to the director of the center, Mr. Nguyen Chan Hung on March 6, 2006.

Nine annual Terry Fox marathons have helped the consulate raise over VND1 billion for the center.

Terrance Stanley "Terry" Fox (July 28, 1958–June 28, 1981) was a Canadian humanitarian, athlete, and cancer treatment activist. He became famous for his Marathon of Hope, a cross-Canada run to raise money for cancer research, running with only one leg. He is considered one of Canada's greatest heroes of the 20th Century, and is now beginning to be celebrated all around the world. He is celebrated every September all around the world as people participate in the 'Terry Fox Run', the world's largest one-day fundraiser for cancer research.