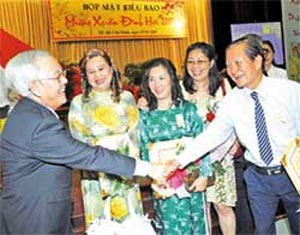 Mr. Le Hoang Quan (L) shakes hand with overseas Vietnamese at the meeting.
The Ho Chi Minh City Government yesterday held a friendly meeting with many overseas Vietnamese who have returned home to do business and contribute to their homeland.
More overseas Vietnamese are now returning home to Viet Nam to do business than in previous years, according to Mr. Nguyen Chon Trung, chairman of the Ho Chi Minh City Committee for Overseas Vietnamese.
He told the meeting that some 480,000 overseas Vietnamese came back to Viet Nam last year, up 5% from 2005. Overseas Vietnamese also set up nearly 400 companies in 2006, with a total investment capital of US$590 million, up 35.7% from the previous year.
Addressing the meeting of over 400 overseas Vietnamese, Ho Chi Minh City chairman Le Hoang Quan said the city had proposed that the central Government approve of incentives for overseas Vietnamese to have rights like locals.
He said, "If the Government agrees with the city's proposal, overseas Vietnamese could buy homes, be exempt from entry and exit visas and stay in Viet Nam permanently."
"Overseas Vietnamese have, amongst other things, contributed to the country's economic and cultural development, as well as help raise Viet Nam's global status," he stressed at the meeting attended by many senior officials. He explained that giving more rights to overseas Vietnamese would encourage more of them to contribute to the country and its economic growth.
At the meeting, Mr. Vu Mao, chairman of the National Assembly's Committee for External Relations was full of praise for those overseas Vietnamese already making a contribution to the country's development and asked them to lend a helping hand in building up the national economy.
Also at the meetings, the city government gave certificates of Merit to one overseas Vietnamese company and nearly 200 individuals in recognition of their contribution to the city's development in education and the economy.