While speaking with voters in Hanoi, Party General Secretary Nguyen Phu Trong said "Self-revelation must be done like a daily face wash."
Meeting voters in Ba Dinh District in Hanoi on October 16, Secretary Trong told them that their feedback was a constant help to National Assembly leaders, civil servants and party members to fulfill their tasks efficiently.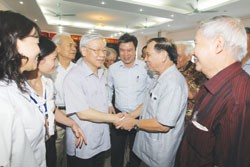 Party General Secretary Nguyen Phu Trong (third left) meets with voters in Ba Dinh District's Truc Bach Ward in the capital city yesterday. (photo VNA)
The General Secretary spent a lot of time with voters, sharing information about the implementation of the Communist Party of Vietnam Central Resolution 4.
Secretary Trong agreed with voters on their views of the recent Party Central Committee meeting, but stressed this is just the initial result. "Criticism and self-criticism is not only about writing a review for 1-2 days. We will examine the implementation process of all party units, and any organs carrying out criticism and self-criticism activities which do not meet the requirements will have to do it again. "
According to Secretary Trong, the history of the Party Central Committee never had such a long round of criticism, with more than five months of preparation and thousands of pages of documents.
Besides, the CPV Politburo and the Secretariat had to spend 21 days in discussions via six conferences, and for the first time the central committee members raised questions and answered questions.
And for the first time the CPV Politburo admitted to mistakes at a CPV central conference, the Party leader said.
The attention, support and constructive comments of voters serve as a great source of encouragement and reminder of the National Assembly's important duty, said Secretary Trong.
Voters applauded the results of the initial self-criticism of the Party Central Committee Resolution, but stressed more work must be done to ensure stringent monitoring in future.
They demanded the Party continue implementing the fourth Party Central Committee Resolution on "urgent issues of Party building," noting the issue is vital to the existence of the Party as well as the nation's prosperity.
A majority of voters welcomed changes in NA activities, especially the discussion of pressing social issues at the law-making body's regular forums and open Q&A sessions.
However, they asked for better supervision of NA resolution and policy implementation, particularly for plans relating to State-owned enterprises, land use, and banking activities.
Secretary Trong agreed with voters' on their views, saying that more work set in the fourth Party Central Committee Resolution will be carried out following the initial review.
Welcoming the voters' frank, knowledgeable and constructive viewpoints on a wide range of issues, the Party General Secretary shared their enthusiasm in promoting democracy and strengthening Party leadership.
He assured voters that the law-making body will continue to renovate its overall operations to warrant the trust and support of voters nationwide.