Ho Chi Minh City's Party chief Le Thanh Hai has urged Party members to act as vigorous activists in the combat against corruption in the southern hub.
"In order to fight against corruption effectively, Party members must be pioneers. The higher their positions are, the more exemplary they must be," he said at the Wednesday closing session of a two-day conference of the city's Party Executive Board.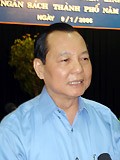 HCMC Party Chief Le Thanh Hai
High on the agenda at the conference were measures to crack down on corruption. Mr. Hai described the combat as a very hard struggle that the Party Executive Board has been determined to win.
He said some achievements have been gained but more efforts are needed to increase the effectiveness and earn more success.
Building an action plan and carrying it well is a must for the Party Executive Board, he stressed.
"I ask the city People's Committee and its units, after the conference, to promptly take actions," said Mr. Hai.
At the meeting, Mr. Nguyen Van Dua, vice chairman of the People's Committee, was elected deputy Party chief of the city, holding this position until 2010.
Mr Dua is 52, joined the Party in 1976 and holds two BA degrees in economics and law.
Related article
HCM City's Party Executives Discuss Leadership Improvement