The Ho Chi Minh City Party Committee reported the results of the 10th National Party Congress to more than 1,000 key officials of Ho Chi Minh City on May 4, 2006.
Mr. Phan Xuan Bien, Chief of the Ideology and Cultural Board of the Committee, reported the preparation of documents for the Congress, which took place in Ha Noi from April 18 to 25, 2006, and personnel preparations.
The Congress elected 160 official members into of the Central Party Executive Committee and 21 alternative members. In its first session, the Executive Committee voted 14 members for the Politburo, eight for the Secretariat. Mr. Nong Duc Manh was re-elected the Party General Secretary.
Regarding main points of the Congress' documents, Mr. Bien stressed Viet Nam's development targets and orientations between 2006 and 2010.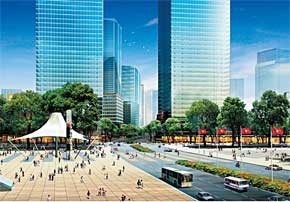 The graphic view of the downtown quarter in Thu Thiem, a planned residential area in Ho Chi Minh City
These points include continuing to facilitate a socialism-oriented market economy; strengthening the Party's combativeness; 12 amendments in the Party Charter and five contents being discussed before becoming part of the charter.
Mr. Bien said the Congress ensured democracy and the participants held an attitude of high responsibility. The Congress' success has resulted in new opportunities for Viet Nam to escape the status of underdevelopment.
Speaking at the May 4 meeting, Mr. Le Hoang Quan, member of the Central Party Executive Committee and Deputy Chief of the Ho Chi Minh City Party Committee, said city authorities need to organize programs to make the public aware of the Congress' resolution and to carry it out.
Mr. Quan asked city authorities to make efforts to achieve Ho Chi Minh City's socio-economic goals in 2006.