Thousands of passengers streamed to the Mien Dong Bus Station in Binh Thanh District, Ho Chi Minh City on February 4 to return their hometowns in the central and northern regions to celebrate the Tet Festival, which will come in four days.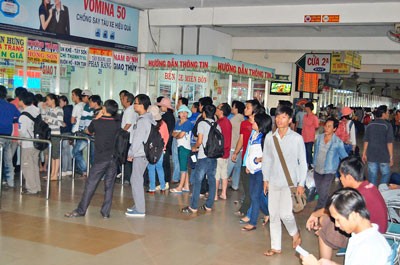 People stream to Mien Dong Bus Station to return their hometowns for the Tet Festival on February 4 (Photo: SGGP)
According to Thuong Thanh Hai, deputy director of the station, they saw about 42,000 passengers by the end of February 4.
Routes seeing most passengers were to the central provinces like Quang Ngai, Quang Tri, Quang Binh, Ha Tinh, Nghe An and Thanh Hoa.
Since 5am, each group of ten buses departed from the station every five to ten minutes. The highly increase of buses caused traffic jam in surrounding roads.
Vehicles lined up in front of the station and extended to Binh Phuoc Crossroads in Thu Duc District from 7-9am. Motorbikes inched while automobiles were virtually stationary.
A lot of workers and students gathered near Binh Phuoc and Song Than Flyovers, Linh Trung Export Processing Zone and HCMC Cemetery to catch buses to central and northern provinces. This created condition for buses to stop and pick up passengers at unpermitted places. Some still tried to receive more passengers although all seats had been filled up.
The city's Department of Transport has asked traffic inspectors and police to step up patrol to examine and strictly punish buses for violating regulations to ensure traffic vehicular and safety during the Tet holiday season.
In related news, Nguyen Van Thanh, deputy head of the Saigon Railway Station, said that 16 trains departed from the station to carry 16,000 passengers home on February 4.