The 17th session of the Ho Chi Minh City People's Council closed Friday with proposals to develop the city's socio-economic climate in 2010. The suggestions came amid public concern over leaders' failure to deal with several issues.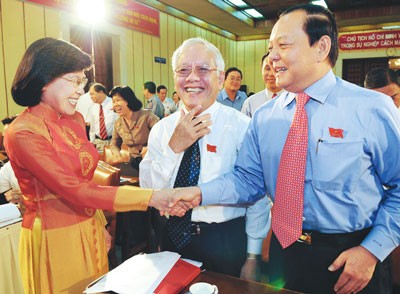 City's leaders at the closing session of the People's Council on Dec. 11, 2009. (Photo: Viet Dung/SGGP)





Council members asked the People's Committee to concentrate capital on infrastructure development next year, ensure sustainable growth, and commit to improving citizens' quality of life.

To achieve this, council members said that city leaders must tackle environmental pollution because it negatively impacts growth.

"I recognize that environmental management is impuissant and environmental regulators are [only] powerless because they do not try their best," said Mr. Nguyen Trong Nghia.

"Do not blame the failure of environmental protection on the system. It is a human responsibility," he added.

Mr. Nghia asked the Committee to reorganize and strengthen environmental management and protection.

Regarding job creation in the city, Mr. Nguyen Minh Quang said the city's target of establishing 270,000 jobs does not change from year to year, while the local labor force increases by the day.

The same applies to the issue of green coverage in the city, he said, with the same target set continually despite several new urban areas springing up annually.

Mr. Quang expected the city People's Committee to take drastic measures to set appropriate targets and demonstrate real achievements.

City Chairman Mr. Le Hoang Quan pledged to make progress in terms of city development next year and suggested eight measures to achieve this.
The proposals included moving the economic structure toward service-industry-agriculture (giving priority to increasing services); expanding production and trade; enlarging and seeking out new markets; strengthening export; tightening financial, real estate, gold and stock market operations; prioritizing the training human of resources for high technology; and continuing to stabilize CPI.
The city's main targets for next year include:

- GDP of 10 percent
- CPI under 7 percent
- Cutting the poverty rate to 7.2 percent
- Cutting unemployment to 5.1 percent
- Creating 270,000 new jobs
- Giving 85 percent of the suburban population and 96 percent of the urban population access to fresh water
- Encouraging 482 million public transportation trips by residents
- 100 percent of environmental pollution to be treated
- 100 percent of hard sewage to be collected
- 100 percent of industrial zones to have standardized wastewater treatment systems