The petrol price hike is hitting taxi service providers hard, with drivers incurring losses due to unchanged commission rate.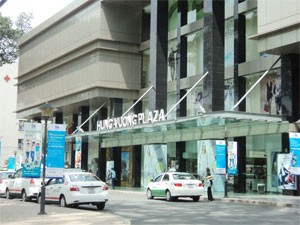 Cabs line up on at the shopping center Parkson Hung Vuong to wait for passengers. Taxi drivers now hesitate to go around to seek passengers due to the petrol price hike (Photo:Minh Tri)
Taxi service providers in the Ho Chi Minh City including Mai Linh and Vinasun have raised their transportation cost on gasoline price hike.
Vietnam has raised fuel prices for the second time in just over a month, further stoking concerns about inflation that is the highest in Southeast Asia, according to AFP.
 
A liter of petrol jumped 10 percent to VND21,300 (US$1.01) from VND19,300, the Ministry of Finance announced on its website, while a liter of diesel rose from VND18,300 to VND21,000.
The increase took effect at the end of last month and followed an 18 percent hike on February 24.
The earlier adjustment in subsidized prices was expected after Vietnam devalued its currency, which in turn pushed up the price of imported fuel.
Ta Long Hy, chairman of the HCMC Taxi Association, said that taxi firms were coping with a very tough time, with bank debts with a 20 percent lending interest rate and the petrol price hike pilling up pressures on them.
 
He added that many taxi firms have hiked their charges by an average of 12-15 percent.
Taxi drivers, meanwhile, said they were the ones who were being hit hard by the petrol price hike, with their income slumping due to an unchanged commission rate and a plummeting demand.
"Drivers of seven-seated cabs earned a commission rate of 52 percent from a daily revenue of VND1.2 million (US$20) and 70 percent from a revenue of over VND1.2 million. But the level of over VND1.2 million is almost impossible to achieve," said Tuan Anh, driver of Mai Linh Taxi.
Another driver of Happy Taxi, who asked not to be named, told Dau Tu Tai Chi Newspaper that in February, his firm raised the fee to VND14,500 per kilometer as petrol price rose to VND19,300 per liter from VND16,400.
"The firm has not made any move since the latest fuel price hike was announced. They also keep the commission rate unchanged," he said.
The commission rate of the District 5-based cab service provider is 47 percent for a daily revenue of below VND850,000 ($42.5), 52 percent for a revenue ranging from VND850,00 and VND950,000 and 54 percent for a revenue of over VND950,000.
"If I make a revenue of VND850,000 a day, I will earn around VND400,000 in accordance with the firm's commission policy. But actually I will incur a loss of VND10,000 as I have to pay a tax of VND50,000 and an average of VND360,000 for petrol," said the driver.
Nguyen Nho of Vinasun Taxi said "taxi drivers dare not go around to seek passengers due to the petrol price hike."
Nho also said many Vinasun taxi drivers were vexed as they had to pay an extra fee of VND10,000 per shift for marketing, while the commission rates remain unchanged.