Artist Pham Hoai Thanh's photos featuring lives of drug addicts were displayed at an exhibition in Ho Chi Minh City on Nov. 26.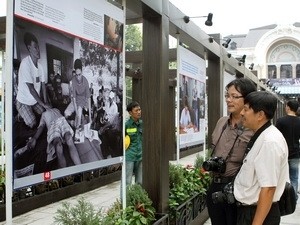 Visitors at the exhibition (Source:VNA)

The event was jointly organised by the Centre for Supporting Community Development Initiatives and the Tomorrow Media company under the auspices of the Open Society Foundations and the United States Agency for International Development via Pact Vietnam organisation.
Through the photos, photographer Thanh depicted different periods in the life of drug users, starting from how they were led to drugs, their struggle against drug use and their integration into community.
Thanh spent one year working with 50 people who have quit their habit or are using the deadly substance to complete the collection.
Earlier, the event was held successfully in Hanoi, Hai Phong and the Republic of Korea.