General Director of the Phu My Bridge BOT Corp. Nguyen Thanh Thai has denied a rumor the company is transferring the right to collect Phu My Bridge tolls to another company.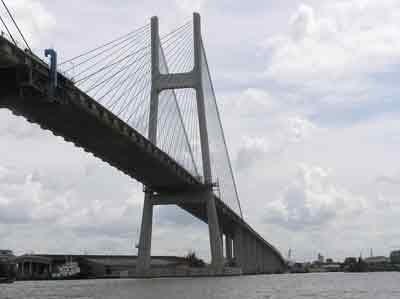 The Phu My Bridge in Ho Chi Minh City. The head of the company that built the bridge has denied rumors it will transfer toll-collection rights to another enterprise (Photo: U.Phuong)
Speaking to Sai Gon Giai Phong, Mr. Thai said the rumor might be related to a new road connecting Phu My Bridge to Hanoi Highway.
The cable-stayed Phu My Bridge spanning the Saigon River to link Ho Chi Minh City's districts 2 and 7 was officially opened to motorbikes and cars of under nine seats September 9.
The six-lane bridge, which began construction in early 2007, has a total invested capital of some VND2 trillion. It is 2.5 kilometers long and has a vertical clearance of 45 meters for river vessels.
Currently, if vehicles want to cross the Phu My Bridge to reach the Hanoi Highway, they must pay a toll on street 25B and again on the Hanoi Highway.
Despite having to pay two tolls, Mr. Thai said many motorists prefer to cross the bridge because it is 10 kilometers shorter to reach the Hanoi Highway. Otherwise, vehicles must travel along Nguyen Tat Thanh Street and Nguyen Huu Canh to reach the highway.
In addition, the HCMC City People's Committee has approved the construction of a new road leading from Phu My Bridge to the Phu My Bridge BOT Corp.'s headquarters. Construction on the road is expected to start in two years.
The fee to cross the Phu My Bridge is decided by the People's Committee, Department of Transport and other concerned agencies, said Mr. Thai.