The deputy chairman of HCM People's Committee, Nguyen Thanh Tai, visited the construction sites of the Phu My Bridge and East – West Avenue projects to check on progress Saturday. The two projects are expected to be opened September 2 to mark Independence Day.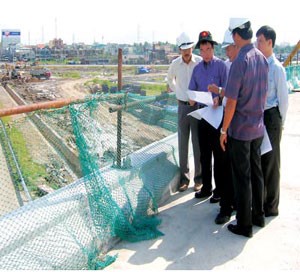 The deputy chairman of HCMC People's Committee, Nguyen Thanh Tai, checks construction progress at Nuoc Len Bridge, part of the East-West Avenue Project (Photo:SGGP)
Mr. Tai requested contractors to speed up the progress so that they can be opened on schedule.

As to the East – West Avenue project, the investor responsible for building the Nguyen Van Linh Avenue and Highway 1A intersection in Binh Chanh District, said that construction has been halted due to the existence of some underground electricity cables and four households located on the site.

The families have refused to move to give way to the project

After inspecting the construction site, Mr. Tai requested the chairman of Binh Chanh District People's Committee to meet the owners of the families for new negotiations about compensation payment to recover the land and transfer it to the investor so that construction can be resumed immediately.

Le Toan, director of the managing board of East-West Project, asserted that the section of street that links Nguyen Van Linh Avenue and Highway 1A intersection to Calmette Bridge will be finished on time.

He pointed out that more than 80 percent of the work is complete, including overpasses built on Tau Hu, Ben Nghe, Khanh Hoi, Cha Va and Chu Y canals; bridges built on streets along such canals including Lo Gom, Nuoc Len and Rach Cay and the street that links East-West Avenue with the Highway 1A.

Others such as Saigon River crossing tunnel and Thu Thiem Street are 75 percent finished, he added.

Phu My, the bridge that connects District 2 to District 7, is nearly finished. At present, contractors are spreading asphalt on the surface of the bridge.

Projects that link Phu My Bridge with important streets in the area are also being speeded up.