People's Artist Phung Ha, the "Northern Pole Star" of cai luong, passed away on July 5 in Ho Chi Minh City at the ripe old age of 99.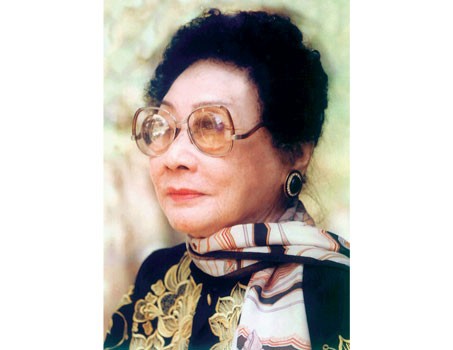 An portrait of Phung Ha
Mrs.Ha, whose real name was Truong Phung Hao, was born in 1911 in the Mekong town of My Tho, and was introduced to reformed opera at just 13.

She became renowned for performing the main roles in cai luong plays like Kim Van Kieu (The Tale of Kieu, the Vietnamese epic written by Nguyen Du), Luc Van Tien - Kieu Nguyet Nga (a verse by Nguyen Dinh Chieu), Doi Co Luu (Ms. Luu's Life), To Anh Nguyet (Ms. To Anh Nguyet's Life), and others.

At 18 she set up her own troupe called Huynh Ky but it was short-lived.

She then joined various troupes, including Nam Tu and Phi Phung before setting up a clutch of her own troupes like Phung Hao (1946), Tam Phung Hao (1948), Nam Chau Vietnamese drama (1949) and Phung Hao 5 (1950).

For over half a century she made great contributions to laying the foundation for cai luong and training many famous artists like Thanh Nga, Ngoc Giau, My Chau, Bach Tuyet, Tan Tai, Thanh Sang, and Nam Hung and young talents like Vu Linh, Thanh Thanh Tam, Kim Tu Long, Thoai My and many more.

She also founded the HCMC Rest Home for Artists in District 8 and helped build the artists' pagoda and cemetery in Go Vap District.

She collaborated with the late People's Artist Nguyen Thanh Chau (Nam Chau) and late cai luong composer Tran Huu Trang to set up the HCMC Stage Artists Association's artists' mutual assistance board in 1948-49.

She was conferred the title of People's Artist and received the "For the career of literature and art" medal and "For the Vietnam Stage" medal.
Her body is being kept at the Ho Chi Minh City Funeral House on Le Quy Don Street from July 6 to 8 and then at the Artists' Pagoda in Go Vap District on July 8 for people to pay their respects. Her funeral will be held at 7 am on July 10.