There is no relationship between the physicians of the People's Hospital 115 and the racketeers who take Vietnamese to China to sell their kidneys, according a report prepared by city's Department of Health and sent to the Ministry of Health.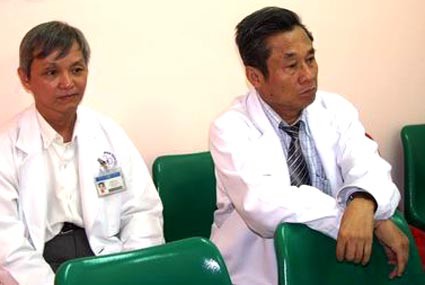 Dr. Nguyen Quoc Khanh (R), director of the People's Hospital 115, denies any relationship between his doctors and kidney racketeers
City health officials visited the Hospital for Convalescence, Rehabilitation and Occupational Diseases to evaluate the condition of To Cong Luan, a 22-year-old student whose kidney was removed in December in China.
Luan is insensible and suffers from hemophilia, something surgeons may not have taken into account, according to medical report by the doctors who treated him at Cho Ray Hospital.
The victim's father, To Cong Son, said that his son knew that his disease could lead to severe complications and even death if he was operated on improperly, so he must have been tricked into selling his kidney.
On April 2, a racketeer called Mr. Son and told him that Mr. Luan was under emergency care at Cho Ray.
The department asked the hospital to prepare a report concerning the accusation that physicians at People's Hospital 115 had a relationship with the kidney racketeers.
The physicians denied that they had any such relationship, according to the report.
Mr. Nguyen Tan Tai, a kidney patient and deputy director of the city's Internal Affairs Department, was receiving hemodialysis treatments at the hospital. He needed a kidney transplant, but no kidney is available domestically.
Mr. Nguyen Quoc Khanh, the director of People's Hospital 115 suggest that he go to China for an operation as the director and other Vietnamese have undergone kidney transplants there.
In addition, Mr. Tai asked that the hospital send Dr. Ta Phuong Dung to take care him after the surgery. Such services are not provided for profit, the report said.
Because both Mr. Luan and Mr. Tai have blood type O, the possibility that Mr. Tai received Mr. Luan's kidney has been suggested.