Ho Chi Minh City has 86 areas that can become submerged by flood water when there is heavy rain or high tide, according to the city's Steering Committee for Flood and Storm Control.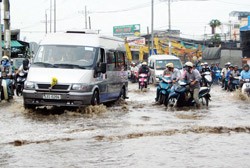 A street in HCM City submerged by high tide on February 13. HCM City has 86 areas that are usually flooded by heavy rain and high tides. (Photo: SGGP)
These areas are spread throughout the city. Binh Chanh District has the largest number of flooded areas with seven, followed by District 2, Thu Duc and Phu Nhuan with six each, and Go Vap and Tan Phu districts with five.
District 1 also suffers from occasional flooding in the five wards of Cau Ong Lanh, Co Giang, Nguyen Thai Binh, Nguyen Cu Trinh and Pham Ngu Lao.
The committee has given the go ahead for a project to prevent and deal with floods.
Information about high tides has to be forecast and pubic announcements made at least five days before they happen so that people and businesses are able to create contingency plans.
When there is a forecast for heavy rain - from 51 to 100mm, or very heavy rain - over 100mm, and the peak of flood tide exceeds Level 1 - from 1.30m, authorities will determine which areas will be liable to flooding.
In cases where dikes may be breached, a rescue force between 29,000 to 30,000 people can be quickly mobilized.