At 8am this morning, October 11, a young man suddenly barged into a nursery school in Ho Chi Minh City and grabbed two 3-year-old boys and one female teacher, holding them as hostage for at least two and a half hours.
The incident occurred at 10A nursery school on Go Cam Dem Street in Ward 10 of Tan Binh District, which at that time was filled with around 300 students between the ages of three and five.
Police laid siege to the school and managed to persuade and subdue the kidnapper after two and a half hours. The arrested man has been identified as 28-year-old Cao Quoc Huy.
According to him, he intended to rob a motorcycle and was detected, so he ran into the kindergarten school nearby to escape being caught.
Huy then used a knife to threaten two young boys and one female teacher and held them hostage.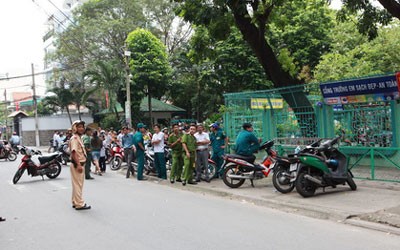 Roads were cordoned off by the police in an attempt to catch the kidnapper
As everyone was outside the classroom during a break, the kidnapper took the three hostages to an empty room.
Panic-stricken, teachers shoved all the kids into different classrooms and locked themselves in.
Police found two Thai knives and a pink cell phone inside Huy's pocket.
After being informed, hundreds of policemen and youth guards were mobilized to the scene and surrounded the school. Worried parents also flocked to the school, with some trying to enter the facility to see if their children were safe but were prevented from doing so by the police.
At 9.30am, police entered the school premises and at 10.15am succeeded in locating the room where the victims were being held. They were all rescued. One boy was in a state of shock, with injuries to his neck and nose, and his left leg was covered in blood.
At 10.30am, the culprit was escorted to the police station.
Hundreds of parents rushed to the school on hearing the news but by 11am the school began to function normally.