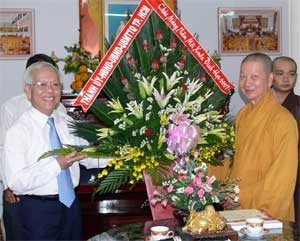 Mr. Le Hoang Quan (L) receives flowers from the Buddhist dignitaries.
People's Committee Chairman Le Hoang Quan and other of Ho Chi Minh City's political leaders went to the city's Buddhist headquarters this morning as a matter of courtesy before the coming Tet holidays
.
They were received at the Second Chapter of the Vietnam Buddhist Sangha (VBS) and the Municipal Buddhist Sangha by the Most Venerable Thich Hien Phap, Vice President and General Secretary of the VBS Executive Council, and the Most Venerable Thich Tri Quang, President of the VBS Executive Council and head of the Executive Council of the Municipal Buddhist Sangha.
Speaking at the meeting, Mr. Le Hoang Quan praised his hosts and Buddhists generally for their contributions to the city's socioeconomic development. He presented flowers and wished them good health and happiness in the new lunar year.
"I am overjoyed that the An Quang ancestral monastery, one of our historical monuments, has been restored so well. And I am very happy that Buddhists have cared for thousands of poor people and helped the victims of misfortune," he added.
On behalf of the city's Buddhist community, the Most Venerable Thich Tri Quang presented flowers in return, thanked the local authorities for their support and wished his guests a prosperous new year.
Related link:
HCMC Party Leaders Visit Key Military Leaders in the run-up to Tet