Two companies in Le Minh Xuan Industrial Zone, Ho Chi Minh City have been handed paltry small fines for dumping waste that turned the greenery in Binh Chanh District into grey.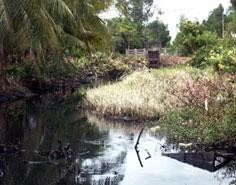 Green turns a whiter shade of grey outside Le Minh Xuan Industrial Zone (Photo: NLD Newspaper)
Surprisingly, one of them is named Moi Truong Xanh, which translates into "Green Environment". It must pay VND10 million (around US$600) for transporting and dumping untreated waste.
The Thanh Son Company was given a slightly stiffer fine, VND15.5 million (US$970), for failing to register its hazardous waste and for drilling for and exploiting underground water without a permit.
The fines come in the wake of an inspection of the land around Le Minh Xuan IZ by vice chairman Nguyen Trung Tin of the HCMC People's Committee.
The pollution in the area is described as "alarming", with noxious fumes pervading the air and the leaves on the trees turning grey.
A spokesman for a nearby medical clinic said the local residents were being plagued by respiration-related diseases like sore throat, rhinitis and even pneumonia. On any given day, there were 50 to 60 patients coming for treatment, he said.
The pollution from Le Minh Xuan is worse than from other industrial zones because it houses several dirty industries like plastics and food processing.
There are still three dozen factories in Le Minh Xuan that have yet to link their sewage treatment works with the zone's main system.
Others discharge their untreated waste straight into the nearby canals as they have no treatment facilities of any kind.