Taxpayers in Ho Chi Minh City face a common vexation when arriving to fulfill their social duty of paying their tax at the social insurance agency; hours of waiting in queue, jostling for parking space despite arriving in the wee hours of the morning and then often having to return without fulfilling their mission.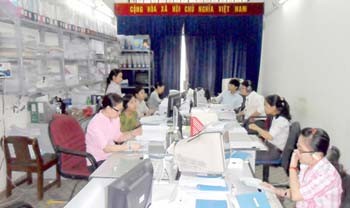 One room in the Social Insurance Agency in District 5 serves as reception area, store room cum meeting room (Photo: SGGP)
Social insurance agencies in several districts of Ho Chi Minh City are inconveniently located in such narrow lanes and small offices that people have to push around to get their work done.
It is only 7am but the social insurance agency in District 10 is already filling with people and vehicles, all jostling for parking space. One woman said she arrived at 6:30am and it was a long wait before she found a parking space and to top it all, by the time she had finished parking, all order numbers had run out, given to those who had come before her!
A similar scene is repeating in the District 5 agency, which is housed in three floors of a family residence but now has to accommodate 34 staff members and an average of 300 taxpayers every day.
Cao Van Sang, director of the HCMC Social Insurance Agency, says that several other districts are also overloaded. For instance, the agency in District 1 is based in an 80 square meter space and deals with more than 400 people per day. District 4 and Go Vap district also offer the same conditions.
According Mr. Sang, the Vietnam Social Insurance Agency is willing to spend on constructing new buildings but the city authorities have refused to allocate land for the purpose, saying there is no land available.