The country's population increased much faster from 1999-2009 than in previous decades, according to an initial investigation reported by the Steering Board of Population and Housing to the Ho Chi Minh City People's Committee on October 23.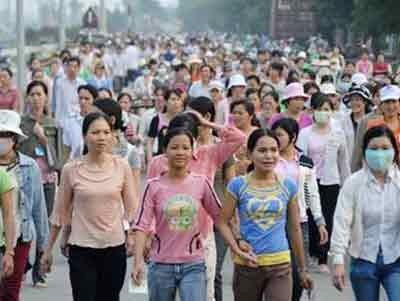 Workers from the Tan Tao Industrial Park in HCM City's Binh Tan District head home after work. The city's population now stands at over seven million people. ( Photo: Tuoi tre)
The head of HCM City's Statistical Office, Du Quang Nam, said the city saw its population grow by 41.4 percent, or two million people, over the past 10 years.
It was announced on April 1, 2009 that HCM City' population now stands at over seven million people.
The population increase from 1999-2009 doubled compared with the period from 1989-1999. Over the last decade, HCM City saw an annual population influx of around 200,000, said Mr. Nam.
His deputy, Le Thi Thanh Loan, said from 1989-1999, the city's population hike was due to natural factors while the population growth from 1999-2009 can be attributed mainly to the city's rapid urbanization and an influx of in-immigrants accounting for two thirds of the annual population growth.
The 2009 census showed that in HCM City's inner districts, the population is decreasing while numbers are soaring in suburban areas and other new districts. Projects to upgrade the city are cited for the decrease in numbers of inner-city residents, as they are forced to leave to make way for the new projects.
In addition, increasing numbers of high-rise buildings and steeper rent have pushed many people to the city's outskirts where the cost of living is cheaper. Figures now show that of the city's 24 districts, 11 have populations of more than 300,000.
General Statistic Office Deputy Chief Do Thuc said the rapid population growth presents an overwhelming challenge to city officials. The city's sprawling development and growing population puts severe strain on housing, traffic and infrastructure, Deputy Chief Thuc added. 
He also emphasized that city leaders must work out a new plan for population management and socio-economic development in regards to the city's expanding suburban populace.
Deputy Chairman of HCM City Nguyen Thanh Tai said the census figures also highlight policy weaknesses in relation to socioeconomic development, population structure, immigration, and the labor force.
Mr. Tai said policy makers need to set better controls on immigration to protect national security, make policies based on accurate population numbers, and devise strategies for long-term socio-economic development.
On April 1, 2009, Vietnam had a population of 85.789 million. Of this, 49.5 percent were male and 50.5 percent female, according to the country's general census.

The 2009 census showed a population rise of 9.47 million compared to the 1999 census.

Vietnam is the third most populated country in Southeast Asia and the 13th most populated in the world.
 
Census figures also show Vietnam's population rose by nearly 12 percent over the past 10 years.

Ho Chi Minh City is the most populous city in Vietnam with 7.12 million residents, followed by Hanoi with 6.44 million, the northern province of Thanh Hoa with 3.4 million, the central province of Nghe An with 2.9 million, and the southern province of Dong Nai with 2.48 million.

There are 20 times more people living within the boundaries of HCM City than in the northern province of Bac Kan, the country's most sparsely populated province.