The Ho Chi Minh City-Trung Luong Highway, which links the city and the neighboring provinces of Tien Giang and Long An, is constantly showing many visible pot-holes, large cracks and sunk-in trenches in some sections of the road surface.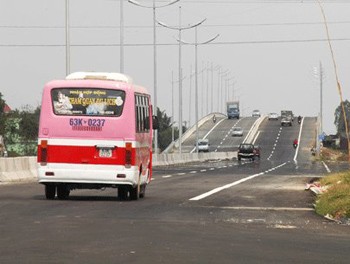 Depressions and cracks occur at several spots on the HCMC-Trung Luong Highway which opened for traffic last year (Photo: The Saigon Times)
This situation is more marked on the 9.6km stretch from Tan Tao junction in Binh Tan District to Dem Market junction in Binh Chanh District, HCM City.
On Kenh Bridge No.7, a hole measuring 0.5 meters deep and one meter in length has showed up. A similar depression also occurs on Kenh Bridge No.8 and the road tarmac has washed off on Rach Tam Bridge.
Similarly, the 2.2km section from Binh Thuan junction to Dem Bridge junction in Binh Chanh District has also sunk by 5-7cm in several spots.
The 62km HCMC-Trung Luong Highway was demolished in December 2004 and reconstructed at an investment of nearly VND10 trillion (US$476 million). It was opened to traffic in February 2010.
Within two months of opening, depressions and cracks have continued to occur along the route and the highway is constantly under repair.