President Tran Dai Quang asked HCMC's National Assembly deputation to be patient to propose suitable specific mechanism for the city development at a conference on reviewing the deputation's performance last year and programs this year on February 16th.
HCMC party secretary Dinh La Thang, head of the city's NA delegation, delivers a statement at a conference on February 16th (Photo: SGGP)
Stating with the status of a HCMC deputation member, President Tran Dai Quang said that starting from the practice, the delegation had many times put forward specific mechanisms without high agreement by the NA. Therefore, the delegation should continue insisting on these proposals for the city's development in the upcoming time.
 
"If the proposals are highly persuasive, it is definite that many people will concur with them," said him.
 
Appreciating the delegation's operation for the past time, President Tran Dai Quang asked it to keep innovating and improving quality of activities in respond to citywide and nationwide citizens' expectations.
 
In lawmaking he urged the HCMC delegation and every NA deputy to contribute policies to supplement and improve the country's legal system, underlining bills related to improving government apparatus, human rights and citizens' duty.
 
For the up quality of supervision activities, the President required HCMC to choose noticeable urgent issues drawing public attention or concerning city development to map out supervisory subjects.
 
Admitting that authorized agencies has slowly answered and settled voters and citizens' suggestions and petitions, he prompted the whole political system to join hands in tackling the issue and bettering the petition settlement process.

Agencies and every cadre must better implement the Law on Complaints and Denunciations and the Citizenship Law.  There must have a mechanism for them to solve issues in a timely manner, he said.
 
Furthermore, he requested reform and diversification of voters contact forms by gender, field, working place and residence area to sustain the regular relationship with citizens preventing long lasting urgent issues from causing social instability.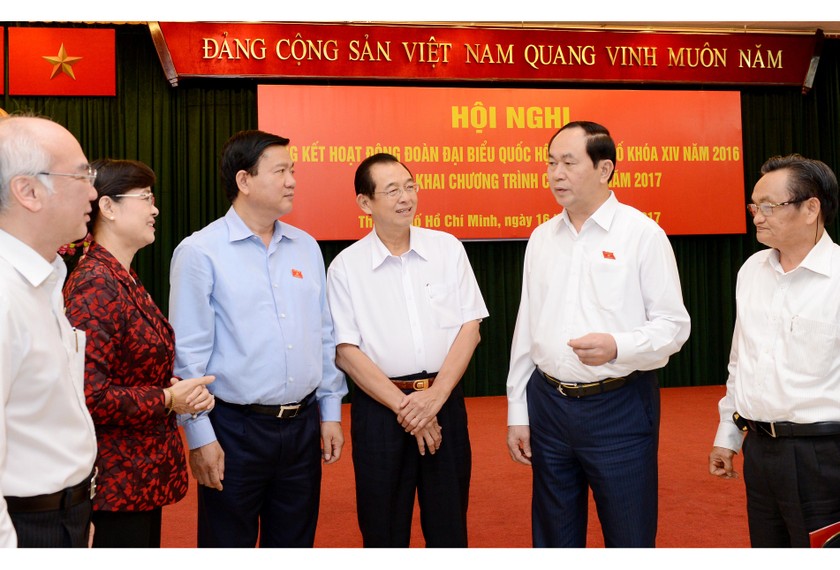 President Tran Dai Quang (R, 2nd) talks to delegates at the conference (Photo: SGGP)
Talking about 2017 programs, secretary of the HCMC Party Committee Dinh La Thang said that fighting years-long tax loss and transfer pricing would be one of major programs of the city NA delegation. HCMC has over 250,000 individual business households but they contribute less than 2 percent to the city's budget revenue, he cited.
 
A foreign firm has nearly 100,000 workers mobilizing 400 buses to transport the workers a day partly resulting in infrastructure overloading from traffic, economics, education, health and security. But the company has paid only VND733 billion (US$32.2 million) in taxes for the last 20 years since establishment. Tax inspectors have determined that the firm must submit a total of VND1,750 billion ($77 million) in tax arrears and penalties for the late payment.
 
HCM will drastically take actions to tackle the issue for a fair business environment, he affirmed.
 
Ms. Van Thi Bach Tuyet, deputy head of the HCMC NA delegation, revealed a plan to review land use and house ownership right certificate granting in the city during the phase of 2011-2016.