Meeting with voters in the Ho Chi Minh City districts of Tan Binh and Tan Phu, President Triet on Thursday stressed that civil servants and the people must combine their strengths in order to fight corruption.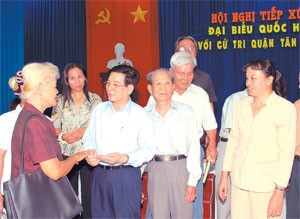 President Nguyen Minh Triet (2nd, L) talks with voters of Ho Chi Minh City districts od Tan Binh and Tan Phu on April 12

The President said that even though much progress has been made, this was not the time to become complacent since there is still a lot of work ahead and the public must remain involved in the fight.

President Nguyen Minh Triet told voters that judicial reform is one of the most urgent tasks facing the government and that the juridical system must fall into line with the country's development.

He added that the National Assembly's law-making procedure needs to be revised with a view to introducing laws that will have an immediate impact on society.

At the meeting, voters stated their dissatisfaction with the educational and medical systems, as well as administrative procedures and price hikes and urged the 12th National Assembly to quickly resolve existing issues.