On November 25, State President Truong Tan Sang and National Assembly deputies Tran Du Lich and Hoang Huu Phuoc met with voters in Districts 3 and 4 in Ho Chi Minh City.
President Sang told voters the results of the fourth session of the 13th National Assembly that ended last week.
The President also heard and replied to all queries concerning the meeting.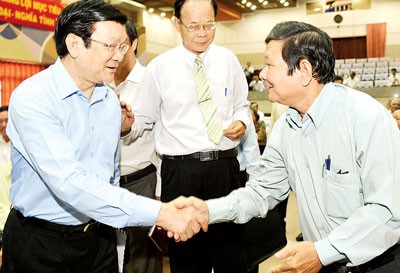 President Truong Tan Sang (L) meets with voters in District 4 in HCMC (Photo: Viet Dung SGGP)
Voters meeting President Sang yesterday suggested that officials found to be corrupt or responsible for losing State assets should face harsher penalties.
Hong Huu Viet, who lives in Ward 3 of District 4, said that many residents were disappointed by the response to corruption cases. He stated that stricter punishments would deter others from corrupt wrongdoings.
Voter Vu Hong Ninh from Ward 13 expressed concern at the fact that a part of the current traffic police force often stops people driving on roads and fines them for no valid reason. Obviously the police are misusing their power to extract money rather than focusing on traffic safety.
Voter Nguyen Vinh Ngoc said that he is worried about the mismanagement of important projects such as the Nam Dinh Television Tower and the Song Tranh 2 Hydropower Plant. He added that currently the officials responsible have not been sufficiently held accountable, and the Minister of Construction should not make excuses.
Ngoc said that the same type of mistake can be seen in the mismanagement of medicine prices by the Ministry of Health.
Concerning protecting national maritime sovereignty, Nguyen Vinh Ngoc recommended that one effective solution was to promote Vietnam's right over the continental shelf including the Paracel and Spratly Islands.
The President also told the National Assembly deputies to make sure that cabinet ministers fulfill their promises.
On the same day, the NA Legislators Le Thanh Hai ( who is also the HCMC Party Chief ), Huynh Thanh Dat and Nguyen Phuoc Loc met with voters in District 11.
Voter Pham Thi Quy in Ward 3 suggested that the central government apply urgent management measures on electricity prices and try to reduce petrol and gas prices which are too high, affecting the prices of all other commodities and making people's lives more difficult.
Voter Huynh Van Cang from Ward 1 said that local people are worried because while thousands of corruption cases have been uncovered, many of these charges are dropped or lessened to lighter punishments.