President Truong Tan Sang on June 25 met with business companies in Ho Chi Minh City and listened to various opinions and proposals on issues related to policies on gold, real estate and bank interest rates and best possible mechanisms to deal with them.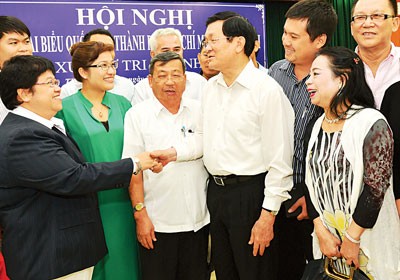 President Truong Tan Sang shakes hands with a businesswoman during his visit in HCMC (Photo: SGGP)
Nguyen Van Dung, director of SJA Jewelry Company, said that jewelry export duty is zero percent, but despite this they still find it hard to export gold because domestic price is much higher than global price.
However the Ministry of Finance has recently put forwarded a draft policy to increase tax by 1-2 percent on several businesses, he said.
 
Huynh Van Minh, chairman of the HCMC Business Association, says several enterprises are now facing continuous losses and have been forced to reduce production, even though the Government has implemented several support measures.
Minh listed reasons for the above condition. For instance, the economy is still weak and competitiveness among businesses is low, while measures to assist companies have not been effective. In addition, the economic restructuring program, especially for State-owned companies, has been too slow.
He proposed the Central Government have long-term policies to boost growth in enterprises. Tax reduction in short term has not basically resolved issues.
Nguyen Phung Kieu, director of Gia Dinh-Saigon Real Estate Company, said although the Government has issued Resolution 02 to help businesses in the present crisis, this in fact has not produced the expected results.
 
For instance, no resident has been able to fully enjoy the housing policy offered for low income people. They have not been able to receive loans at six percent interest rate for a ten year period to buy apartments of less than 70 square meters, priced at VND15 million (US$713) a square meter.
Regulations that debtors have to prove their income to get loans is irrational because several people work freelance and ad hoc and cannot prove their income on paper.
In response, President Sang said that HCMC occupies one third of the country's Gross Domestic Product. As a result achievements and difficulties of businesses in the City greatly affect the country.
He proposed businesses continue to unite and help each other to overcome difficulties and thus continue to grow and develop. The State and the Government would reflect on their opinions and accordingly provide specific assistance measures.
President Sang also asked banks to help companies find solutions for their production and trade.
The State will soon look for solutions to find consumption sources and broaden market share for agricultural products, especially rice, he said.