One week after the hike in petrol price, many food products in markets across Ho Chi Minh City have increased their rates by 5-20%.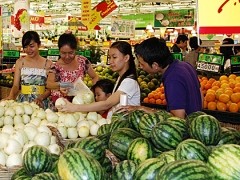 Customers at a supermarket in Ho Chi Minh City.
Pork meat has increased by 20% compared to last month. Other fresh produces such as chicken, beef and seafood have increased from VND2, 000-10,000 per kilogram.
At Phung Hung market, the price of blue fish has increased from VND35, 000 - VND45, 000 per kilogram. Poultry prices have also increased from VND4, 000 - 6,000 per kilogram.
According to representatives from supermarkets across the city, since the beginning of March, they have received notices about price hikes from suppliers, mainly from the food processing industry, household goods and cosmetics. Besides, many goods in supermarkets were re-adjusted with an incremental price increase.
Supermarkets such as Co.opMart, Big C and Citimart are presently holding talks with suppliers to offer promotional programs in order to share the cost burden with customers.
However, a price difference of VND1, 000-10,000 per kilogram exists on some food products sold in supermarkets from those in the outside markets.