Ho Chi Minh City is continuing to remain committed to stabilizing prices through its program to ensure that necessary commodities reach city residents without fluctuating rates.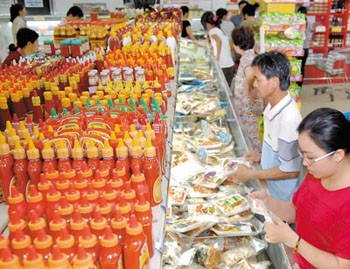 Customers at a supermarket in HCMC buying under the price stabilization program (Photo: SGGP)
Department of Industry and Trade and some related departments read the program's draft to the city People's Committee vice chairwoman, Nguyen Thi Hong.
The program aims to ensure that necessary goods and commodities meet with consumer demands without unusual price fluctuation. The program's commodities will account for 20-30 percent of the market share while the stabilized price will be at least 10 percent lower than that on the market.
The stabilized price commodities include rice, sugar, cooking oil, cattle meat, chicken, chicken eggs, vegetable, fruit and seafood.
All enterprises able to meet the suggested norms will be permitted to join the program. However, they will be excluded if failing to meet the program's regulations.
Additionally, the Department of Industry and Trade has chosen three commodities of notebook, school bags and uniforms to stabilize on its price stabilization program for the new school year, 2011-2012.
The quantity of these goods will meet 20-40 percent of the market share with price expected to be at least 15 percent lower than market price.
The price stabilization program will last from January 1 until the end of March while the new school year program will begin from May 1 to the end of October.