The Ho Chi Minh City People's Committee promulgated instruction on stabilizing prices on May 16.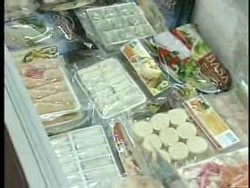 Prices of foodstuffs will not increase in the coming months.
Accordingly, all sectors and levels of related authorities have to focus on implementing strictly the Prime Minister's guidance on saving gasoline and oil. Specially, companies will have to cut down 10% of there gasoline and oil bills.

Attempts will be made to control prices of fertilizer and foodstuffs in the coming months, lest negatively impacting consumption price index.

Also, an inter-department inspection team will be set up between Departments of Finance, Trade, Market Control. The Measurement and Quality Standard Agency will immediately investigate and check the implementation of decision on gasoline and oil prices to detect violations such as hoarding up and not selling gasoline and oil at stipulated prices, and gasoline and oil prices are not matching the quality. Violations will be strictly punished.

An investigation team will be organized to investigate transportation enterprises. It will report on violations to the Ho Chi Minh City People's Committee. The committee will impose strict penalty on enterprises who take advantage of the adjustment of gasoline and oil prices to increase transportation costs.