A survey of people's satisfaction with public services in Ho Chi Minh City has found primary education in top spot and issue of land title deeds in last place.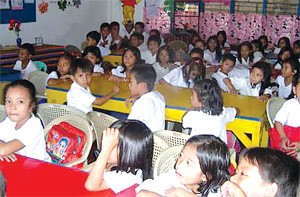 At a first grade class in Ho Chi Minh City (Photo: SGGP)
The annual study, jointly conducted by the city's Development Research Institute and Statistical Office, polls people on eight services: garbage collection, transport, healthcare, issue of land ownership and construction licenses, notary office, income tax collection, and primary education.
 
This year's survey found people to be "satisfied" with most services though satisfaction levels have been falling in the last two years.
 
Since 2006 the satisfaction index for public transport has fallen to 49.5 percent from 78.9 percent, for issue of land title deeds to 39.2 percent from 59.3 percent, and for healthcare to 68.9 percent from 78.2 percent.
 
Primary education was added to the survey this year.