With the participation of private investors, the relocation program for about 15,000 households living on and near some canals in Ho Chi Minh City has begun showing some positive signs, with many residents receiving new quality apartments, a survey of SGGP has found.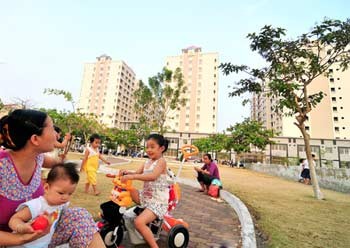 The Tan My Condominium in District 7, which has recently put in use for the city's relocation program (Photo: SGGP) 
Most of the residents subject to relocation are poor and they have paid a small compensation since they had no papers proving its ownership over their houses built on or near the canals. Therefore, they cannot afford resettlement apartments built at the expense of the State budget, even when they are allowed to pay by installments.
According to the city Department of Construction, only 7,358 households have been relocated under the resettlement programs since 2006, accounting for just 41 percent of the city's target.
There now remain more than 7,600 households, in Binh Thanh District and Districts 6 and 8, needed to be relocated, said deputy director of the department, Nguyen Van Danh.
The tardiness in the progress of the relocation was due to many changes having been made to some State budget financed projects for resettlement, Mr. Danh said.
To improve the situation, the HCM City Party Committee and People's Committee have directed relevant local authorities to apply a policy called as "investment socialization," which means private investors are mobilized to take part in building and providing houses for low-income people.
District 8 has been selected as the first location to implement the policy on a pilot basis. Accordingly, a relocation project have been developed to clear the slums on the U Cay canal in wards 9, 10 and 11.
The first phase of the project has completed with 629 households have moved to their new residence, out of the 905 households needed to be relocated. The Saigon Real Estate Corporation (RESCO) has provided the district authorities with VND411.5 billion (US$21.1 million) as an advance to pay compensation to 784 relocated households.
In addition, RESCO has provided 776 new apartments at the Tan My and An Suong condominiums in Districts 7 and 12 respectively. The company will complete 350 another apartments in District 8 in the near future.
Deputy chairman of the District 8 People's Committee, Nguyen Ho Hai, said these projects were aimed not only at meeting the city's needs of urban reconstruction, but also at creating social security works for the poor.
The city authorities continues calling for private investment in housing projects for relocation of residents living in slums, but some investors hesitate to take part in relocation projects for fear that such projects may not bring about such an efficiency as they expect, he said.   
To boost the progress of relocation projects, the Construction Department has proposed the  relocation program be included in the city's stimulus package so that investors under the program can enjoy subsidized loans up to VND100 billion with a term of 10 years.
In addition, the People's Committee should give private investors some other investment incentives, such as a higher construction density, a zero VAT tax rate, and a deferred payment of land use fee, the department said.