On April 24, Ho Chi Minh City reported a sizable recovery with production showing a marked increase and inventory of several commodities falling substantially.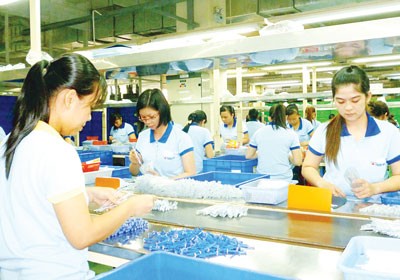 Manufacturing shows recovery in HCMC in first four months of the year (Photo: SGGP)
At a meeting chaired by Le Hoang Quan, chairman of the HCMC People's Committee, to review present socio-economic conditions in the first four months of this year, the above facts were clarified.
Huynh Khanh Hiep, deputy director of the Department of Industry and Trade, said the City reported export revenues of US$9.2 billion in the first four months, an increase of 15.6 percent over the same period last year.
Imports were at $8.04 billion, up 19.5 percent over the same period last year. Items imported included machinery, equipment and raw materials for domestic production.
Hiep said that production has shown recovery with several garment companies having got orders at the end of the third quarter.
The inventory level in the industrial sector in April was reduced by 2.8 percent compared to March.
Nguyen Tan Dinh, deputy head of the HCMC Export Processing and Industrial Zone Authority (Hepza), mentioned that production has risen in several businesses, and that foreign direct investment companies are operating more stably than domestic enterprises.
Businesses in industrial and export processing zones exported $1.25 billion worth since the beginning of the year, an increase of 12 percent year-on-year.
However, seafood processing companies were straddled with many difficulties including price reduction.
According to To Duy Lam, director of the City branch of State Bank of Vietnam, credit institutions have loaned companies in five fields of agriculture, export, medium and small enterprises, support industry and hi-technology, at an annual interest rate of 9-11 percent a year.
In particular, small and medium enterprises have been loaned upto VND60,773 billion (US$2.91 billion) to make recovery in production.
Crackdown on illegal slaughter houses
At the meeting, Nguyen Phuoc Trung, deputy director of the Department of Agriculture and Rural Development, said that HCMC has not yet detected any Avian Flu case so far. However, with about 78 illegal slaughter areas in Districts 12, Go Vap, Hoc Mon, Tan Binh, Tan Phu and Binh Chanh, threat of infection looms large.
Le Hoang Quan, chairman of the People's Committee in HCMC, said that district animal health divisions will be held responsible for illegal slaughter houses in their area and called for a total ban and sealing of the 78 illegal slaughter houses by May.