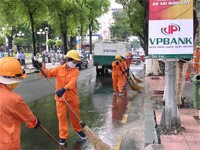 Sanitation workers are cleaning up the street
The Ho Chi Minh City People's Committee launched a one-week program on May 14 to clean the city on the occasion of Uncle Ho's 116th birth day (May 19), the World Environment Day (June 5), and the second APEC Senior Officials Meeting in the city in late May.
After the launching ceremony, many organizations and city dwellers cleaned their offices, neighborhoods and schools; dredged canals; planted new trees and beautified trees along downtown streets like Dong Khoi, Le Duan, Le Loi, Nam Ky Khoi Nghia and Nguyen Hue.
The program also helps city dwellers be more aware of measures to reduce pollution, save energy, use natural resources properly, protect the environment and so on.