Flood prevention has been one of the biggest preoccupations of Ho Chi Minh City authorities in recent years. Zoning for flood prevention is considered the best solution, according to experts and scientists.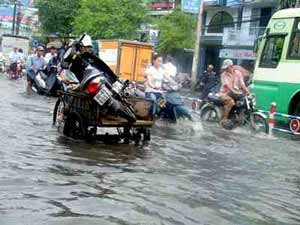 A flooding scene in Ho Chi Minh City
Residents must confront flooding every year during the rainy season, not only in low lying areas, but also in the central districts. Flooding may be caused by heavy rain, flood-tide, poor drainage, or water release by hydroelectric dams.

In addition, infrastructure works are degrading, which leads to obstruction of the drainage system.

Many solutions have been implemented, but most of them are not effective.
A group of experts and scientists was established by the Ministry of Agriculture and Rural Development to research this issue and determine the objective causes.

Three solutions were discussed and it was decided to divide the city into three zones for flood prevention. The three zones are the left side of Sai Gon River – Nha Be River, the area near the confluence of Dong Nai River and Sai Gon River, and the right banks of Nha Be River and Soai Rap River.
The scientists also recommend building a system of enclosed structures including dams and water control gates. This system will not only reduce the water level, but will also improve the environment in controlled areas, according to Dr. Le Manh Hung.
He also noted that once the structures are built, the water level in the Dong Nai, Sai Gon and Vam Co rivers will increase by 15-20 cm and their speed of flow will increase at restricted points. Therefore, an appropriate overall system of operation is required, he added.