Ho Chi Minh City's Department of Natural Resources and Environment proposed a plan to the City People's Committee to reduce plastic bag use in the city.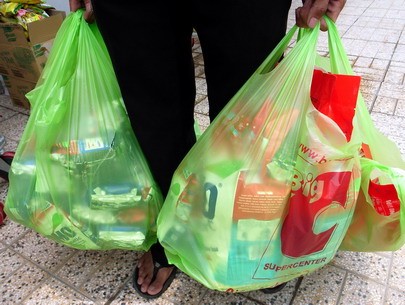 Plastic bags are widely given out by Big C and Nguyen Kiem supermarkets (Photo: Tuoi Tre)
The plan focuses on supermarkets and shops, which provide most plastic bags.
To implement the plan, the department also proposed to set up a group to oversee and lobby supermarkets, and set up places to collect plastic bags for recycling.
The department encourages companies to use other materials that can replace plastic, protect the environment and promote recycling.
The department will support companies that produce bags with loan capital from a fund for environmental protection.
It also proposed a plastic bag tax, paid for by customers, and the banning of free plastic bags in the city. 
According to the department, the government wants to encourage people to use bags that do not damage the environment, such as those made from cotton.
Nationwide 50 tons of plastic bags are thrown away each day, according to the department.