During the past seven months, six armed robberies occurred at jewelry stores in Ho Chi Minh City. Faced with this alarming situation, the storeowners are paying more attention to their stores' security.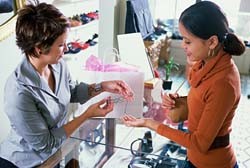 A custormer chooses jewelry at a store
On July 3, the Vietnam Gold Business Association and Art Jewelry Association organized a meeting to discuss protection plans.

Mr. Nguyen Van Dung, Chairman of the Art Jewelry Association, said that 1,157 members of his association already have the telephone number of police and local authorities.

Formerly, the jewelry stores only paid attention to business and used unprofessional security guards hired from amongst the owners' relatives; some shops were only equipped with poor-quality cameras. For security, the association advised them to buy high-quality cameras from the Department of Criminology and Behavioral Science and to rent professional guards. In addition, the owners were advised to consider their shops' situation in planning effective defense measures.

In areas with many jewelry stores, the owners cooperated with local security forces to patrol the surrounding streets and are planning to build sentry-boxes on Ham Tu, Bach Van, Tran Hung Dao, and Nhieu Tam streets.

In Thiec Market, which has over 40 jewelry stores, a nine-member security force constituted by local policemen, militia and volunteers was established.

The association also asked the authorities to give permission to the guards to use tear gas, electric guns, and clubs as enforcement weapons.

Mr. Dung expressed his desire for the local police to open training courses for guards about the newest tricks of robbers in order to plan effective security measures.

At the meeting, Mr. Nguyen Thanh Long, Chairman of the Vietnam Gold Business Association, said that he hopes the armed robberies will be effectively prevented by the cooperation of police and all members.