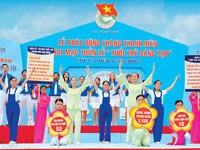 Over 1,000 communist unionists attended in the "Youth Month 2006"
On the 75th anniversary of Ho Chi Minh City Youth Communist Union foundation, over 1000 of its members attended in the "Youth Month 2006" launched by the Central Communist Youth Union on March 1, 2006, at the City Youth Cultural House.

The Youth Months 2006 includes:
-   "Creative Youth" month (from 1 to March 7, 2006): focusing on propagandizing and displaying pictures, products, inventions and researches of young people in the city.

-   "Company of Youth" month (from 8 to March 15, 2006): raising the Youth Fund for young people, who were rehabilitated, the Young Employee Supporting Center for young workers, etc.

-  "Youth Volunteer for Community" month (from 16 to March 23, 2006): setting up youth teams to be traffic wardens.

-   "Proud of Heroic City's Youth" month (from 24 to March 31, 2006): holding meetings and talks between city's leaders and members of HCMC Communist Youth, and the awarding of the Ho Hao Hon prize.

In the first week of the Youth Month, the communist unionists will attend such forums as Youth and Environment, Youth and Administrative Reforms, Youth with Architecture and Planning of City.

In addition, the prize-awarding ceremonies for student researchers "Eureka 2005" and "Creative Youth" will take place on the occasion.