Saigon Giai Phong Newspaper and the Ho Chi Minh City Department of Education and Training co-held an award ceremony for the annual contest "Prudential-Good Essay, Good Writing" in the city Sunday.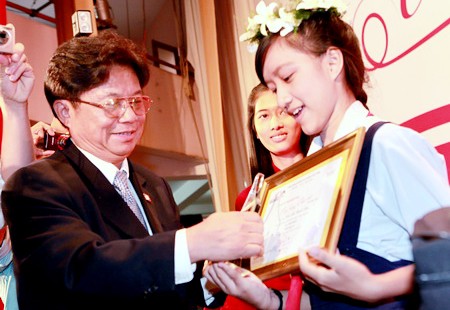 Saigon Giai Phong newspaper Editor-in-chief Tran The Tuyen (L) presents an award to a winner (Photo: Tran Thanh)

The HCM City contest, in its 12th edition, honored 14 award winners who are 6th, 7th, 8th and 9th graders from schools in the city.

Their teachers and classmates joined the ceremony at the Youth Cultural House together with Saigon Giai Phong Editor-in-chief Tran The Tuyen, Deputy Editor-in-chief Nguyen Tan Phong, education department director Le Hong Son, and life insurer Prudential Vietnam's chief financial officer Nick Holder.
"The significance of the contest is to encourage literature teaching and studying at schools," said Deputy Editor-in-chief Phong.
"We would like to show our gratitude to teachers who have educated the students and nurture their dreams. We hope today's winners to continue to learn hard to achieve more success in their study."
Over the past 12 years, the contest has expanded to many schools in the city, with more and more students and teachers interested in, said education department director Son. He added that the contest has helped students and teachers make progress in literature studying and teaching, as well as improve their personality.
Prudential Vietnam CFO Holder said a great number of secondary high school students have taken part in the contest, a competition that helps them build up a love for their mother tongue and motherland.

Ho Chi Minh City 2011 winners

6th and 7th classes
First winner: Tran Thi Thanh Tam, 7th grader Binh Chieu School, Thu Duc District
Second winner: Le Huynh An Thuy, 7th grader, Chu Van An School, District 11
Third winners: Hoang Thi Trang Chau, 7th grader, Le Anh Xuan School, Tan Phu District; Vo Thi Hong Ngoc, 7th grader, Hong Bang School, Dist. 5
Consolation prize winners: Nguyen Thi Kim Ngoc, 6th grader, Vietnam-Australia School, Dist. 10; Phan Nhu Anh, 7th grader, Kim Dong School, Dist. 5; Cao Le Ngoc Anh, 7th grader, Hoang Hoa Tham School, Tan Binh Dist.
8th and 9th classes
First winner: Le Hong Cam Nhung, 9th grader, Tan Tao School, Binh Tan Dist.
Second winner: Nguyen Hoang Thu Trang, 9th grader, Nguyen Du School, Dist. 1
Third winners: Nguyen Hoang Xuan Chieu, 9th grader, Tran Quoc Toan School, Dist. 9; Cao Nha Dinh, 9th grader, Binh Tay School, Dist. 6
Consolation prize winners: Ho Dac Xuan Minh, 9th grader, Town 2 School, Cu Chi Dist.; Tran Thanh Ngan, 9th grader, Le Van Tam School, Binh Thanh Dist.; Tran Le Bich Tuyet, 9th grader, Tran Quoc Toan School, Dist. 9