Le Hoang Quan, chairman of the People's Committee in Ho Chi Minh City, on March 26 instructed the Department of Construction and the HCMC Real Estate Association to publicly announce the location of 25 social housing projects that have been approved by City authorities.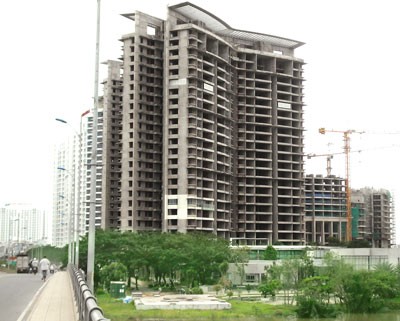 An under-construction apartment block in Nha Be District, HCMC (Photo: SGGP)
Mr. Quan gave this instruction while inspecting social housing projects in Tan Binh District.
He proposed that the Department of Construction work with district authorities to broaden the group of people eligible for social housing. The group should cover families under the State preferential policy, the poor and resettled households.
At present, those accessing social houses are civil servants and those working in the military and police forces.
He also instructed the State Bank of Vietnam in HCMC to coordinate with districts and housing investors to call on commercial banks in the City to offer preferential interest loans to such buyers.
Le Son, permanent deputy chairman of the People's Committee in Tan Binh District, said that the district has asked investors of housing projects to convert at least 30 percent of their apartments for social housing and gve priority to civil servants without houses.
At present, the district has two projects under this policy. The first one is located at 19/19 Lac Long Quan in Ward 9, where 100 out of 490 apartments will be for social housing. The other is positioned at 171A Hoang Hoa Tham in Ward 13, where 147 out of 440 apartments will be for the above purpose.
Investors of these two projects will hand over these 247 apartments to the City and district authorities by May 30 at the latest, Son said.
The Department of Construction and Tan Binh District proposed the City assist social housing buyers with six percent interest rate over a period of ten years. Authorized organs should cut short procedures related to the implementation of social housing projects and bank interests so that investors can lower the price of social houses.

Related articles:
Conversion to social housing to reduce inventory