The biggest nuisances for HCM residents are the lack of clean water and roadworks, which were discussed between the chairwoman of HCM City People's Council, Pham Phuong Thao, relevant authorities and city residents live on TV March 1.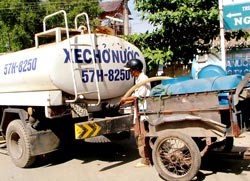 Residents of Hiep Binh Phuoc Ward, Thu Duc District, get safe water from trucks because the network does not extend to the area

In response to the question by people living in a number of wards in Districts 7 and 8 that they have yet been supplied with safe drinking water for seven years, Pham Manh Duc, director of Cho Lon Water Supply Water Co., said that the company has projects lined up to extend water supplies to areas that do no have access to safe water like wards 4, 5 and 7 of District 8 or some areas in Binh Tan District. But the problem is that the company lacks investment funds.

Duc pointed out that to extend the supply water to Ward 7 of District 8, the company needs some VND5 billion (US$ 286,014) to purchase 5 km water pipes, some VND80 billion (US$4.5 million) to invest in upgrading supply network and over VND10 billion (US$572,088)  to install water meters free of charge to new customers.

Duc therefore appealed to the Saigon Water Supply Corporation (Sawaco) for investment in upgrading the water supply network.

Ly Chung Dan, deputy director of Sawaco, said that the corporation supplies 1.25 million cubic meters to the city every day, but water cannot reach some areas located at the end of the network, including Nha Be District.

Dan said that to meet city residents' demands for safe water, the city must supply a further 350,000 cubic meters.

Sawaco, he added he, needs funds to upgrade the corporation's water supply network but cannot obtain loans from the bank to do so.

Pham Phuong Thao said that the City People's Council and People's Committee will call for investment funds for Sawaco from local and foreign investors or act as a guarantor for it to borrow funds from banks to upgrade the supply network, but emphasized the corporation must improve the management of water supplies to reduce leakages.

As to roadworks caused by projects to improve drainage systems and sanitation by the HCMC Department of Transport, Tran Van Hon, resident of District 5 complained about their danger due to unsafe barriers.

The deputy head of HCMC Traffic Police, senior lieutenant-colonel Vo Van Van, reported that there have been 54 cases of traffic jams in the city over the first two months of the year, half of them were caused by roadworks.

Explaining why so many roadworks are behind schedule, Sarashina, Japanese contractor for part of the Water Environment Improvement Project, blamed relevant authorities' poor management of underground construction work.

Sarashina said that digging had been brought to halt many times as it met unexpected underground work that had not been indicated on maps.

He gave an example that while his workers were digging 12 kilometers of street in District 5, they met many unexpected underground work, including water pipes and electricity and telecommunication cables.

Tran Quang Phuong, director of the HCM City Department of Transport, said that the management of underground construction had been a headache for the city government, as many plans of underground works built before 1975 were lost.

Participants in the program were shocked at Sarashina's proposal that the city should allow contractors to extend the length of roadworks to help digging and consequently speed up the rate of progress.

His proposal was rejected by senior Lt. Col. Vo Van Van, who suggested that the HCM City Department of Transported should limit the length of roadworks down from 100 meters to between 30 -50 meters.